Happy summer to our TGRP Solutions community!
We've been busy working with candidates to help them find their dream jobs, tackling projects with our consultants to help our clients improve their organizations and more, but we've also taken time in the last few months to give back to our community.
Here's a recap of how we have supported our greater Denver community and tried to have a positive impact between April and June 2023:
Colorado UpLift, The BIG Lift | April 2023
If you read our Q1 2023 Giving Back Spotlight, you know that we've worked with Colorado UpLift for a while now. This organization introduces urban students to positive and caring adults ("UpLifters") who can ensure they do not have to navigate life's toughest challenges alone. Their model has resulted in over 90% of UpLift seniors graduating high school and 84% of graduates going on to college, trade school or the military. Once a year, Colorado UpLift bring hundreds of volunteers around the city together to beautify schools, parks and community centers at a one-day event called The BIG Lift. TGRP Solutions was fortunate enough to be a part of it on April 15th. We were assigned to work at Bear Valley International School, a middle school that's part of Denver Public Schools. The TGRP team helped sort, organize and clean out different storage units in the school, organizing supplies and creating room for new equipment.
"I'm a big believer in the meaningful work Colorado UpLift does to help young people thrive in their communities," says Doug Nassif, director of placement and contract solutions at TGRP Solutions. "Two of TGRP's core values revolve around service and family, and it is so rewarding to be able to support the important work that Colorado UpLift does to provide mentors and structure to the lives of students in sometimes incredibly challenging situations. Our role at The BIG Lift was to help this school get organized as they wound down the school year, but we know that our efforts make a difference in the lives of these students. Fun is another important core value at TGRP, and our team coming together to help out with the BIG Lift was a blast!"
Colorado UpLift, Summer Field Day | June 2023
Colorado UpLift hosts a summer field day for its students, introducing them to outdoor experiences. The TGRP team joined the fun on June 6th at Clement Park, helping set up for flag football, giant soccer, and kickball. About 10 TGRP staff members joined UpLift to support this great event at Clement Park, where the organization supported students from three different middle schools in Denver Public Schools. Our team helped organize activities, referee games, and keep the kids safe and engaged.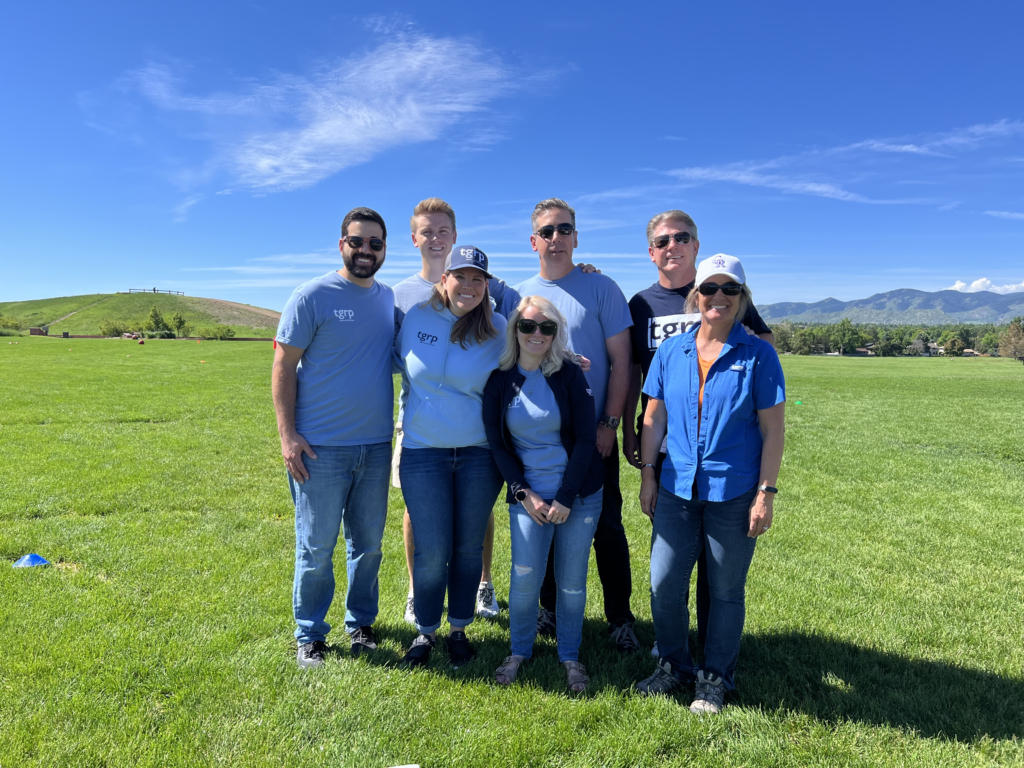 Project C.U.R.E, Medical Kits Assembly | June 2023
Project C.U.R.E. is the world's largest distributor of donated international medical relief, touching the lives of children and families in more than 135 countries. This amazing organization is based right here in Denver, and delivers 3-5 semi-truck sized ocean containers packed with medical equipment and supplies to hospitals and clinics in resource-limited countries every week! The nonprofit also deploys hundreds of healthcare professionals to provide medical treatment to communities in need.
Since starting out of a garage in Denver, this organization now has warehouses in seven U.S. cities (including Denver). A dozen TGRP Solutions employees volunteered for the day on June 14th to box up supplies at their Centennial warehouse. These C.U.R.E. Kits are each about the size of a suitcase, packed with essential medical supplies and transported to communities abroad.
This is a new organization to TGRP Solutions, but it's not new to Danielle Norris, one of our accounting and finance recruiters. She served as the TGRP point person for this volunteer day.
"I was introduced to Project C.U.R.E. by friends, and I initially attended the annual gala," Danielle says. "I loved learning about their mission to help people in need worldwide." The TGRP volunteer day with Project C.U.R.E. was Danielle's first time volunteering with the nonprofit. She says that she was excited to do so this year especially—since Project C.U.R.E. has been providing medical supplies for the relief effort in Turkey and Syria following the devastating February 2023 earthquake. "It was fascinating to see the large volume of medical supplies that are packaged and shipped globally. Seeing TGRP give back as a team was really exciting. I love that we came together to help impact the lives of individuals in need on a global scale."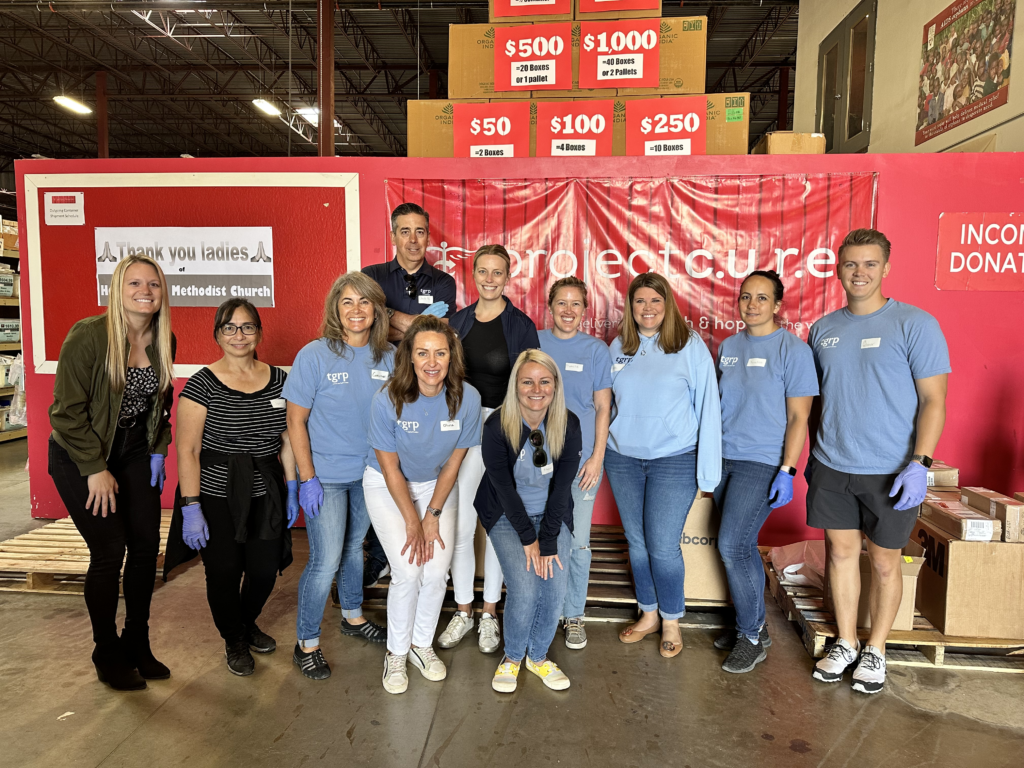 Paying Gratitude Forward
The well-known call to action of Ghandhi has always rung true for us here at TGRP: "Be the change you want to see in the world."
We know that kindness can have a big impact and a ripple effect on our community. We see it time and time again, and it's one of the many reasons that we embrace giving as a part of our core values as a company.
There are so many organizations in need in the world, in Colorado, and here in Denver. We're grateful to have the ability to support some of them and that we have such a caring group of people at TGRP who want to join in those efforts. We're looking forward to doing more and will be sure to update our TGRP colleagues and friends here on the blog about what we're up to. Let us know if you ever want to join us!
Read our May 2023 Giving Back Spotlight
Read our December 2022 Giving Back Spotlight